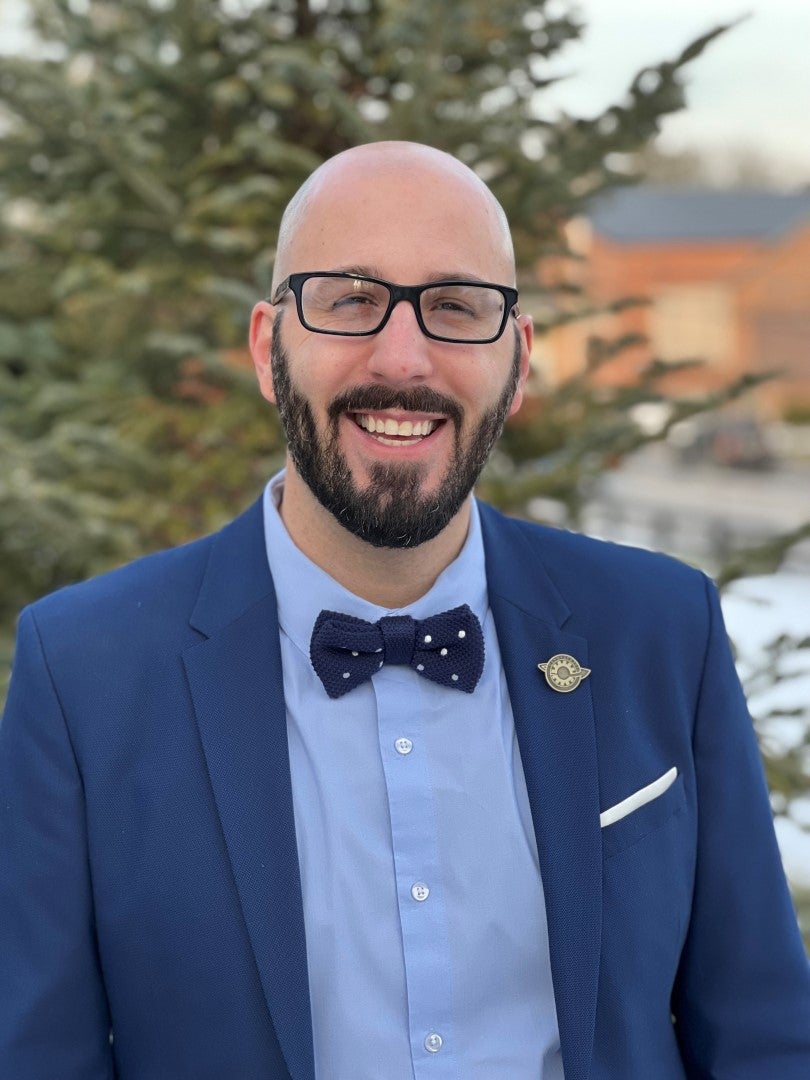 Vice Chancellor for Diversity, Equity and Inclusion
Main Hall 410

Pronouns: They/Them
About
Rame Hanna serves as the inaugural Vice Chancellor for Diversity, Equity and Inclusion, responsible for guiding and leading institution-wide efforts to advance a culture of belonging at the University of Colorado Colorado Springs (UCCS). Guided by a commitment to sustainable inclusive excellence, Rame seeks to foster a socially just campus climate that embraces intersectional identities, promotes diverse critical knowledge, and centers the lived experiences of marginalized and underrepresented communities to ensure that all belong and can thrive.
Rame is a cultural change agent and social scientist who has dedicated their professional and personal life centering critical diversity scholarship in pursuit of inclusive excellence. As a first-generation Arab American, their education focuses on the intersections of access and equity, inclusive leadership, and organizational change within higher education.
Rame is committed to intentional and sustainable progressive change through authentic collaborations and strategic campus coalitions and community partnerships. Through intersectional evidence-based approaches to increasing institutional agency and social responsibility, Rame has led numerous higher education institutions through the transformative process of blending a culture of inclusion and belonging into the full fabric of the institution. At Worcester Polytechnic Institute (WPI), Rame led their institution-wide diversity efforts as chair of WPI's Council on Institutional Diversity, developing and launching their Bias Response Program, and leading the WPI's Project Inclusion initiative toward the formation of their first DEI Strategic Framework and diversity action plan. These efforts not only led to WPI receiving a national honor for placing in the top 2% of higher education schools in the U.S. leading in DEI initiatives and practices in 2020 and 2021, but continue to guide critical strategic diversity efforts that cultivate and promote inclusive learning and work environment at WPI and within STEM.
Prior to WPI Rame served as the inaugural Director of Diversity & Inclusion and Title IX Coordinator at Olin College of Engineering, overseeing the Office of Institutional Equity and Social Justice. In this role, Rame led the College's efforts to vision and design a campus climate of inclusion and belonging through intentional programs and campus-wide initiatives. As founder and chair of the Council on Institutional Diversity, they worked collaboratively with campus partners to develop strategic initiatives focused on the recruitment and retention of diverse faculty, staff, and students, the development of an inclusive campus culture, and facilitated numerous intersectional educational opportunities and workshops on identity development, systemic and structural change, and anti-racism. Additionally, as the Title IX Coordinator Rame directed the College's compliance with Title IX as set forth by the Office of Civil Rights (OCR) within the Department of Education (DOE). In this role, Rame drafted a new comprehensive sexual misconduct policy, facilitated live campus-wide prevention and education programs, and managed the response and resolution of investigations through a trauma-informed and restorative practices lens.