Monday, November 15, 2021
Dear members of the UCCS community,
As the holiday season approaches, I would like to once again express my gratitude for your tireless work and continued dedication to our students. I am proud of all we have achieved together this past year.
As in previous years, the UCCS campus will close during the last week of December. I am excited to share that Governor Polis has authorized 12 hours of leave as this year's Governor's holidays and I have added another 12 hours of leave, which will allow UCCS employees to enjoy an extended vacation with family and friends without taking leave. Campus will close from Friday, Dec. 24, 2021–Monday, Jan. 3, 2022, except for essential services. Normal operations will resume on Tuesday, Jan. 4, 2022. 
No action is needed in your the MyLeave calendar to add administrative leave or remove any vacation leave on these dates. Please verify leave amounts taken on your final timesheet.
In addition to Thanksgiving Day, Christmas Day (observed Dec. 24), and New Year's Day (observed Jan. 3), campus will be closed on the following days for you to enjoy time with family and friends.
Friday, Nov. 26 — Friday following Thanksgiving
Monday, Dec. 27 — Floating Holiday (Veteran's Day)
Tuesday, Dec. 28 — UCCS Chancellor's Administrative Day (Administrative Leave)
Wednesday, Dec. 29 — 4 hours UCCS Chancellor's Administrative Day/4 hours Governor's Holiday (Administrative Leave)
Thursday, Dec. 30 — Governor's Holiday (Administrative Leave)
Friday, Dec. 31 — Floating Holiday (Presidents Day)
Monday, Jan. 3 — New Years Day (Observed)
Supervisors are required to provide information regarding employees whose work is essential during this closure to their respective Vice Chancellor and to Robynne Dahl, Program Assistant for Human Resources.
Units and departments with specific Facilities Services needs, including research labs, must communicate those needs to their respective Vice Chancellor and to Kent Marsh, Associate Vice Chancellor for Campus Planning & Facilities Management.
I'd like to give my special thanks to our essential services teams, who will maintain a limited presence to ensure facilities on campus are safe, operational and secured daily. Power will remain on throughout the campus, with temperatures set to maintain 62 degrees. Mountain Lion Way and Regent Circle will be maintained during winter weather as required for emergency services access, along with select walkways in residential housing areas where students remain. Parking lots and most walkways will not be maintained in the event of winter weather during the closure. Facilities will supply services to the Cybersecurity Building, the William J. Hybl Sports Medicine and Performance Center and the Lane Center buildings during the closure.
I hope you enjoy the extra time off this holiday season to rest, relax and recharge. Please accept our heartfelt thanks for all that you make possible at UCCS.

Best wishes for a happy and healthy holiday season,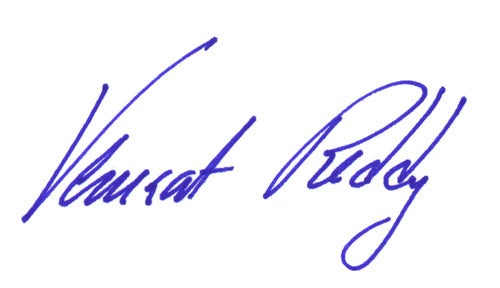 Venkat Reddy
UCCS Chancellor
[ BACK TO STATEMENTS & MEDIA ]