Nancy Marchand-Martella named UCCS Provost
Tuesday, December 14, 2021
Dear members of the UCCS community,
I am delighted to announce that Nancy Marchand-Martella, Ph.D., will become UCCS' next Provost and Executive Vice Chancellor for Academic Affairs beginning July 1, 2022.

Nancy comes to UCCS from Purdue University, where she has served as the Suzi and Dale Gallagher Dean of the College of Education since 2018. She has 30 years' experience as a faculty member, teaching both undergraduate and graduate courses.

As UCCS' Provost and Executive Vice Chancellor for Academic Affairs, Nancy will be the Chief Academic Officer of the university, providing primary administrative leadership, direction and evaluation for all academic activities and faculty affairs of UCCS.
 
Nancy brings a wealth of experience to the role of Provost at UCCS. In her time at Purdue and throughout her career, she has prioritized innovation initiatives, strategic planning, online education and the advancement of a culture of diversity, equity and inclusion — priorities that are in strong alignment with UCCS' strategic goals.
  
Prior to her appointment at Purdue, Nancy was Chair of the Department of Educational Psychology and the Hardman Endowed Chair of Education at the University of Oklahoma. She spent many years on the faculty at Eastern Washington University (EWU) in the Departments of Counseling, Educational, and Developmental Psychology and Curriculum and Instruction. Prior to EWU, she worked at the University of Montana, Drake University and Gonzaga University. Nancy earned her B.A. in Psychology from Purdue University, her M.S. in Behavior Analysis and Therapy from Southern Illinois University, and her Ph.D. in Special Education from Utah State University.
 
Interim Provost Kelli Klebe will continue to serve in her role through the end of the fiscal year. During that time, we will develop a plan to ensure a smooth transition between the offices.

Please join me in thanking Kelli for stepping into this role and helping to guide our academic programs during these challenging times. I also want to thank the Provost search committee for their time and commitment to this process. The search committee included: 
Mary Ann Cutter, Co-Chair, Professor of Philosophy  

Don Rabern, Co-Chair, Dean of the College of Engineering and Applied Science 

Jackie Berning, Professor and Chair of the Department of Health Sciences 

Laura Eurich, Senior Instructor and Associate Chair of the Department of Communication 

Emily Gregory, junior Mechanical Engineering major and President of the Student Governance Association 

Chuck Litchfield, Vice Chancellor for Administration and Finance 

Sarah Long, Assistant Director of the Gateway Program Seminar and President of the Staff Association 

Karen Markel, Dean of the College of Business 

Federico "Freddy" Martínez-García, Assistant Professor and Director of Access Services in the Kraemer Family Library 

Pat McGuire, Associate Professor of Teaching and Learning and Co-Director of UCCSTeach 

Becky Medved MBA '87, retired entrepreneur  

David Moon, Professor of Political Science, MPA Director and President of Faculty Assembly 

Susan Taylor, Professor of English and Associate Vice Chancellor for Undergraduate Education and Academic Planning 

Henriikka Weir, Associate Professor and Internship Coordinator for Department of Criminal Justice 
In addition, several members of the campus and wider community participated in the first round of Provost interviews. These individuals include:
Lauren Butler, Visual and Performing Arts student and former Senator-at-Large of the Student Government Association

Alex Baker, Case Manager for the Dean of Students, and Past President of Staff Association

David Weiss, Associate Professor of Chemistry and Biochemistry, and Past President of the Faculty Assembly

Jacob Pruitt, Vice President and General Manager for Colorado Springs of T. Rowe Price

Kelli Klebe, Professor of Psychology, Dean of the Graduate School and Interim Provost
I would also like to thank Rose Walker, Elizabeth Wyatt and Racquel Paywa for providing outstanding administrative support to the search.
Finally, I would like to give my thanks to the entire campus community for joining in the search for our new Provost.
Respectfully,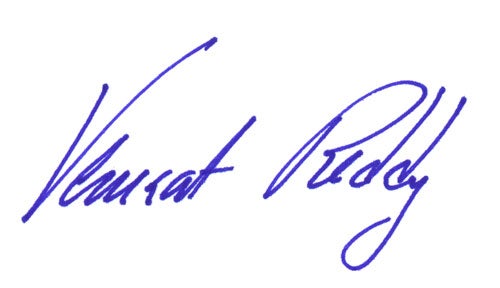 Venkat Reddy
UCCS Chancellor
[ BACK TO STATEMENTS & MEDIA ]