Tuesday, August 24, 2021
Dear members of the UCCS community,
To all those who are new to UCCS: welcome! And to all those who are returning for the new year: welcome back! 
Last Wednesday, a thousand first-year students gathered for their official Class of 2025 photo, participated in PlayFair and paraded through campus. UCCS faculty and staff members lined the Spine to applaud, wave streamers and cheer them on. It was a moment of absolute joy. And it reminded me just how much I have missed the feeling of being together with our Mountain Lion Family. 
After 18 months, we are finally back on campus in full force. This return to campus is a little different than we expected. Based on recommendations from the CDC, we required all members of campus to wear face coverings when they are indoors. I know we were hoping that these health and safety measures would be a thing of the past by the time the semester began, but I am grateful for our campus's continued commitment to keeping our community safe. 
As we celebrate a return to what we have missed, I am also excited for all that is new at UCCS. 
We will soon unveil the brand-new T. Rowe Price Career and Innovation Center. Housed in the University Center, the new Career Center will be more accessible to students than ever before, and equipped with resources to help students and alumni at every point in their career journeys. I am looking forward to celebrating the grand opening with you this fall.
Students, I hope you will also visit the brand-new MOSAIC Center: the Multicultural Office for Student Access, Inclusiveness and Community and LGBTQ+ Resource Center. The newly-expanded space is full of resources to support you and help you to create a sense of community here at UCCS. 
Speaking of all that is new: yesterday, we celebrated a milestone in the buildout of the UCCS Cybersecurity Building. A generous UCCS alumnus, Kevin O'Neil, has given a transformational gift to the university. In addition to creating the Kevin O' Neil Cybersecurity Education and Research Center, the gift will create funding for graduate students and faculty advisors, and a new liaison position that will ensure UCCS is at the table when cybersecurity partnership opportunities arise in our community. Together with new academic programs, career opportunities and initiatives, I am excited for UCCS to continue its leadership role in the ever-expanding world of cybersecurity. 
In addition, we are searching for dynamic new leaders at UCCS, including a new Provost and Vice Chancellor for Diversity, Equity and Inclusion. We will welcome candidates for both positions to campus this fall. I hope you will take the time to get to know them during their visits. Your feedback on UCCS' progress, and the leaders who contribute to it, is the most valuable part of the search process. 
There is much to celebrate at UCCS, and our continued success is made possible by our commitment to realizing the goals of our 2030 Strategic Plan. Since the plan launched last year, we have made great strides towards our goals: launching distinctive initiatives, including those housed in the William J. Hybl Sports Medicine and Performance Center; moving towards a new budget model; strengthening our partnerships across the city, region and state; and investing in the learning, engagement and sense of inclusive belonging for every member of our campus. 
These achievements would not be possible without the voices of our Mountain Lion community. Thank you for all that you do to make UCCS extraordinary. 
I hope that this semester is filled with new discoveries, new connections, health – both mentally and physically – and happiness.
Wishing you all the very best. Go Mountain Lions! 
Respectfully,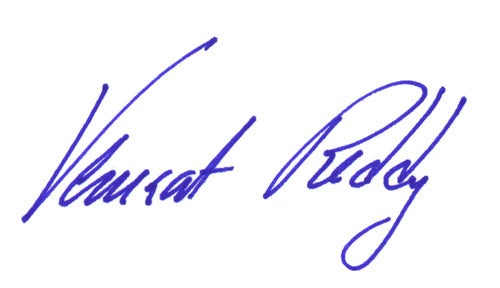 Venkat Reddy
UCCS Chancellor
[ BACK TO STATEMENTS & MEDIA ]