Celebrating an Incredible Year
Thursday, August 29, 2019
Dear members of the UCCS community,
Welcome to Fall 2019!
It's the start of a new academic year, and we have a lot to celebrate.
A few days ago, we welcomed nearly 1,800 new students at our annual Convocation ceremony. We celebrated a construction milestone on the William J. Hybl Sports Medicine and Performance Center and are looking forward to opening the new Spine Road, which will connect west and central campus.
We also welcomed the 23rd president of the University of Colorado, Mark Kennedy, who spent his first morning as president learning about UCCS' accomplishments in cybersecurity, sports medicine and the arts.
As we settle into the fall semester, I want to take a moment to celebrate some of our campus community's accomplishments from the past year. As a university and as a community, we have so much to be proud of. 
Highlights from the past academic year:
Students
Alyssa Ortiz became the first UCCS student to graduate with a Ph.D. in Applied Sciences – Mathematics.
Biology major Brandon Titus teamed up with UCCS alumna Racquel Valadez to help author a peer-reviewed publication in Developmental Biology, a leading scientific journal.
Skylyn Webb was named the Rocky Mountain Athletic Conference Woman of the Year and won two national championships in the 800-meter run.
37 UCCS students traveled to Ekumfi Ekumpoano, Ghana through a club called Global Medical Brigades to help provide local Ghanaians access to health care.
Dillon Nobbs created a nonprofit, Pedal to the Pantry, and raised nearly $1,500 for food banks during a 26-day bike trip along the West Coast.
Lee Haider, Meghan Lunday, Andrew Stevenson and Elijah Salberg have created Trof, an app that aims to connect strangers around a meal.
Women's basketball student-athlete Maria Haas headed to South Africa to begin her two-year service in the Peace Corps.
And Astride Mukabagula represented UCCS as a delegate at the National Foster Youth Institute Shadow Day, an annual event giving current and former foster youth a platform to advocate for child welfare issues.
Faculty & Research
UCCS earned an R2 designation from the Carnegie Classification of Institutions of Higher Education, meaning it is now among doctoral universities with high research activity.
Our faculty produced 271 journal articles, 205 artistic works, 90 books and chapters, and 143 research presentations. They received 78 sponsored awards worth a collective $8 million.
Jane Rigler, associate professor of music, earned a Fulbright award to teach and research in Ireland.
Meghan Lybecker, assistant professor of biology, received $866,800 from the National Institutes of Health to study the bacterium that causes Lyme disease.
At TEDxMileHigh, chair and professor of the Political Science Department Josh Dunn presented on why engaging with different perspectives is more important than ever.
And the CU Board of Regents approved the creation of a new academic department of Human Physiology and Nutrition.
Staff
Stephanie Hanenberg, executive director of health and wellness, spent the 2018-19 year serving as president of American College Health Association.
Carlos Garcia, associate vice chancellor for student success, was named President of the National Association of College Auxiliary Services for the upcoming year.
Chief of Police Marc Pino was one of 16 law enforcement personnel to participate in a prestigious professional course to improve the administration of justice in police departments at the FBI National Academy.
Nick Lockwood, director of orientation and new student outreach, and Hailey Santonastaso, orientation program coordinator, were recognized for creating the UCCS Mobile Orientation app with a first-place win at the CU Innovation and Efficiency Awards Expo.
Infrastructure
The final piece of structural steel has gone into place on the William J. Hybl Sports Medicine and Performance Center. Up to 1,400 students within the new Human Physiology and Nutrition Department will study there, while more than 400 people will visit the clinics operated by Penrose-St. Francis Health Services and Centura Health.
UCCS Downtown opened its doors in Fall 2018 and is now being utilized by students, faculty, alumni and community partners.
The Spine Road is set to open in mid-September. The new road will connect the west and central areas of campus, reduce traffic on Austin Bluffs Parkway and North Nevada Avenue, and create a safer route for pedestrians and cyclists.
The Ent Center for the Arts welcomed 200,000 visitors through its doors and has hosted over 450 events.
Community Collaboration
UCCS continues to receive a $2.8 million annual appropriation from the state of Colorado to lead our efforts to educate the future cybersecurity workforce of the Pikes Peak region.
Our deferred-enrollment partnership with Pikes Peak Community College is allowing a seamless transition from community college to university.
A commitment from UCHealth Memorial Hospital has allowed nearly 50 students to participate in the RN-to-BSN completion program, which addresses the shortage of BSN-qualified nurses in Colorado Springs. Students are on track to graduate in Spring 2020.
Life-size sculptures by Visual and Performing Arts students Deborah Schoen and Jennifer Marquez have been fabricated and displayed in the University Village Colorado shopping center.
The first semester of UCCS' Campus Connections program paired 18 at-risk grade school students with a UCCS student for mentorship, academic and career support.
151 staff and faculty members participated in the first Bridge Forward Scholarship giving challenge, helping to increase access to a higher education for middle-income UCCS undergraduates.
Our Shared Future
The value of a UCCS education continues to grow. A recent report from the Colorado Department of Higher Education showed that a UCCS degree remains one of the top investment choices in Colorado. As we remain committed to affordability for our students, I am incredibly proud that UCCS students graduate with less debt and more earning potential than alumni from many other Colorado institutions.
UCCS prepares students for the workplaces of the future. In keeping with that vision, the University of Colorado Board of Regents approved many new degrees and programs for our students: a human physiology and nutrition department, bachelor's and master's degrees in social work, a bachelor's degree in human services, and two doctoral programs in computer science and security. Our current and future students will also benefit from new minors, courses, and certificates in civics education.
And we are committed to providing excellent experiences not just for our students, but also for our faculty and staff. In 2018, UCCS was named the second-best place to work in El Paso County. We were the only four-year institution in Colorado to be named a "Great College to Work For" by the Chronicle of Higher Education.
I am proud, too, that we kicked off the 2030 Strategic Planning process this year, and are in the midst of writing the next decade of success at UCCS. Voices from across campus continue to shape this far-reaching plan, and as we create our shared future, I encourage you to be a part of the process.
We closed the 2019 academic year at Spring Commencement by sending nearly 1,200 graduates into the world with powerful words from class speaker Victoria Asuquo: "You are builders, you are innovators, you are researchers, you are educators and you are caretakers...You are equipped. You are capable."
Asuquo's words ring true for me. It is a privilege to be part of such an incredible community.
Thank you for the work you do every day to make UCCS a stronger, more vibrant university. I hope that you are looking forward to the start of an exciting new academic year.
Respectfully,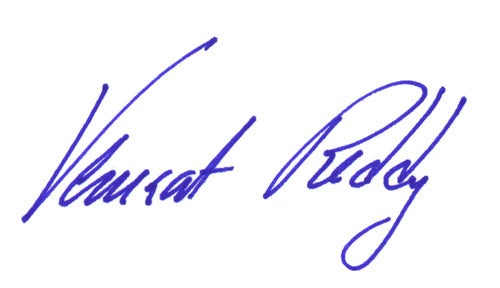 Venkat Reddy
UCCS Chancellor
"As we settle into the fall semester, I want to take a moment to celebrate some of our campus community's accomplishments from the past year. As a university and as a community, we have so much to be proud of. "

— Chancellor Venkat Reddy
[ BACK TO STATEMENTS & MEDIA ]