Chancellor Reddy on President Benson's Retirement Announcement
Wednesday, July 18, 2018
President Benson's leadership at the University of Colorado over the last decade has been remarkable. In his 10 years as president, he has overseen the transformation of CU into a worldwide leader in education and research. The growth and expansion of UCCS under his leadership would not have been possible without Bruce and his wife Marcy being our biggest champions.
The Bensons embody the innovative spirit that UCCS thrives on. There have been few challenges they haven't backed down from. They are always looking for ways to improve and make more efficient how we operate at the university. The focus has always been about what we can do that will directly impact the experience for students, faculty, staff, alumni and the communities we serve. His goal was to establish CU and its four campuses as among the best in the world, and he's taken great strides in taking us there.
Bruce is adamantly passionate about our students. He speaks directly to our graduates at commencement ceremonies, encouraging graduates with words that symbolize his own approach to work at CU: "people want leaders – if you see a void, fill it." It is indeed impressive that to date he has only missed two of the 27 UCCS ceremonies during his tenure.
UCCS has grown and expanded into new and exciting ventures. His leadership and support for the expansion of west campus, including the Lane Center for Academic Health Sciences, the Ent Center for the Arts, Mountain Lion Park and Mountain Lion Fieldhouse, will stand as visible symbols of his strong support of UCCS.
I have been fortunate to work directly with Bruce since my appointment as Chancellor last year. The campus will standby to support the Board of Regents to find someone with the same passion, dedication, spirit and leadership that he brought to CU.
Please join me in offering a sincere appreciation to Bruce and Marcy for the work they've done and have yet to do in their final year at CU. They certainly made a difference in the lives of the thousands of faculty, staff, students, alumni and community members. Knowing Bruce and Marcy, I have no doubt they will continue to champion the causes of University of Colorado system for a long time to come.
Respectfully,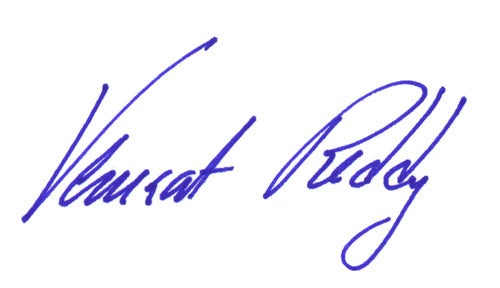 Venkat Reddy
UCCS Chancellor
"I have been fortunate to work directly with Bruce since my appointment as Chancellor last year. The campus will standby to support the Board of Regents to find someone with the same passion, dedication, spirit and leadership that he brought to CU."

— Chancellor Venkat Reddy
[ BACK TO STATEMENTS & MEDIA ]