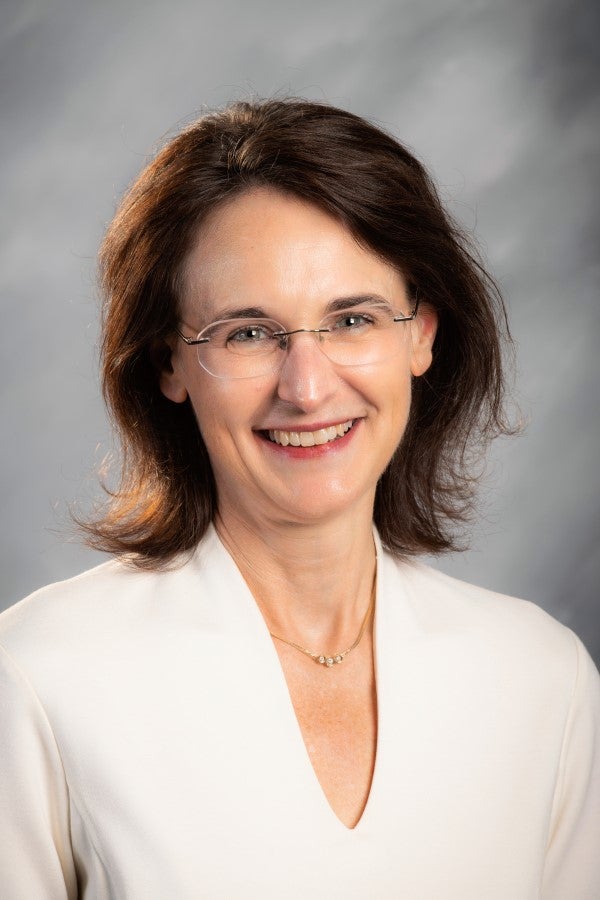 Biographical Information
Dr. Jennifer Sobanet serves as the Interim Chancellor at the University of Colorado Colorado Springs (UCCS). She received her Ed.D. in leadership for educational equity in higher education from the University of Colorado Denver and master's degree in international studies from the University of Pennsylvania's Lauder Institute and holds an MBA in international financial management from the Wharton School of the University of Pennsylvania.

Dr. Sobanet joined the University of Colorado in Denver in 2016 and most recently served as CU Denver's Executive Vice Chancellor of Administration and Strategy. In that role, Dr. Sobanet led CU Denver's strategic plan implementation and catalyzed strategic partnerships and innovation while aligning the university's resources to achieve its vision.
She stewarded the administrative and financial strategy of CU Denver and led the university's work in incubating, resourcing and operationalizing its strategic initiatives. Her work developing new corporate, community and public/non-profit partnerships, including P3's, elevated CU Denver's research and creative works, teaching and learning, student experiences and success, and community impact. She oversaw efforts to reimagine CU Denver's space and place given its unique location in downtown Denver and actualized the vision through public-private partnerships and other innovative financing strategies.
Previously, as Senior Vice Chancellor for Finance and Administration and as Chief Financial Officer, Dr. Sobanet led the development of the university's new incentive-based budget model, which rewards financial growth and reallocation of resources to innovative financial strategies. She also established the Office of Strategic Impact to support operational and performance enhancements by growing leadership effectiveness, breaking down functional silos, aligning resources, encouraging learning, facilitating stakeholder engagement and developing a shared mindset for continuous improvement and innovation. Also under her leadership, a public-private partnership (P3) procurement process occurred to explore options for the first-year student housing project, City Heights, which opened in August 2021. Dr. Sobanet's work has been instrumental in the creation of CU Denver's Strategic Enrollment Management Plan, its Decision Support Toolkit and the Auraria Campus Capital Renewal Project.
Before her tenure with CU Denver, Dr. Sobanet served as Acting Executive Director and COO of the Colorado Department of Higher Education. In this role, she led the State's development of higher education academic, student and financial policy, bringing a focus on closing the equity gap in Colorado. She also designed the State's first performance-funding model for public institutions of higher education to help increase postsecondary completion and led the State's higher education policy work on aligning workforce supply and demand and developing experiential learning opportunities for all students. She served as the Governor's appointee to the Business Experiential Learning Commission.
Prior to joining the Department, she served as CFO and VP of Finance and Administration at Front Range Community College and held strategy, finance and legislative positions at Colorado State University Global Campus and the Colorado Community College System. She also served as Economist and Budget Analyst in Governor Roy Romer's Office of State Planning and Budgeting.
Outside of work, Dr. Sobanet is involved in the local community. She serves on the Denver Scholarship Foundation Board and is a member of the Leadership Denver Class of 2014. She enjoys yoga, tries to get in a run each day, and loves spending time in the mountains hiking, snow shoeing and cross-country skiing.